Transform your Online Presence with Expert Design & Development.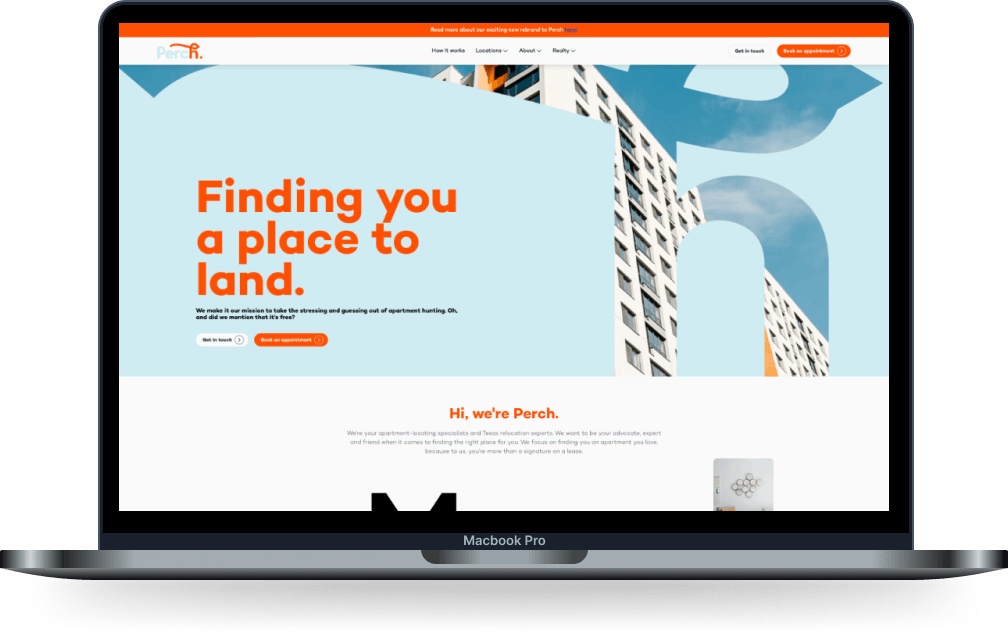 We create stunning, user friendly websites that drive results for your business
Recent Projects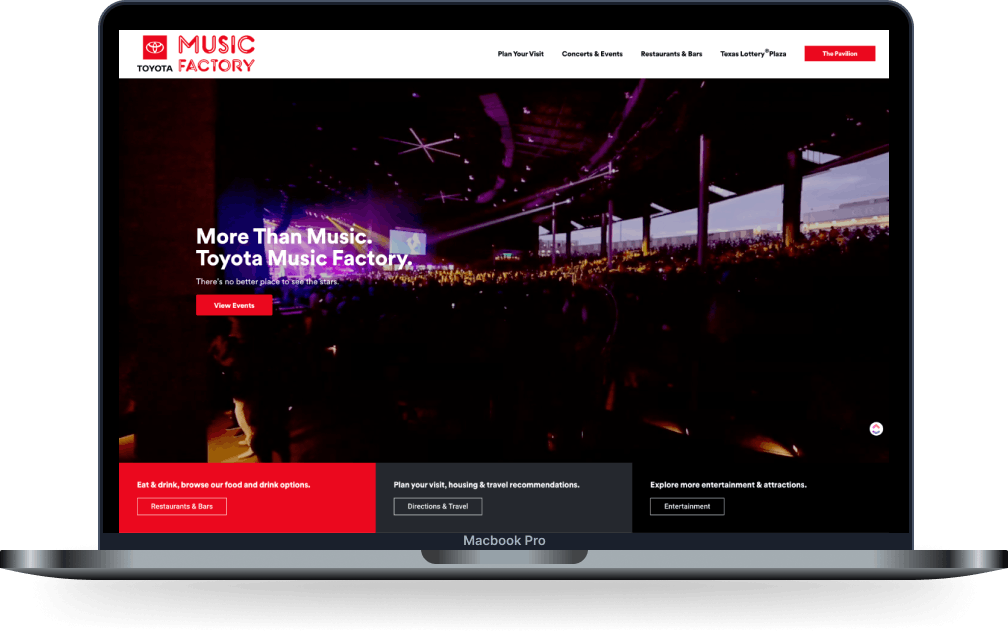 Toyota Music Factory
Web Design, Marketing Site Development, and Analytics Implementation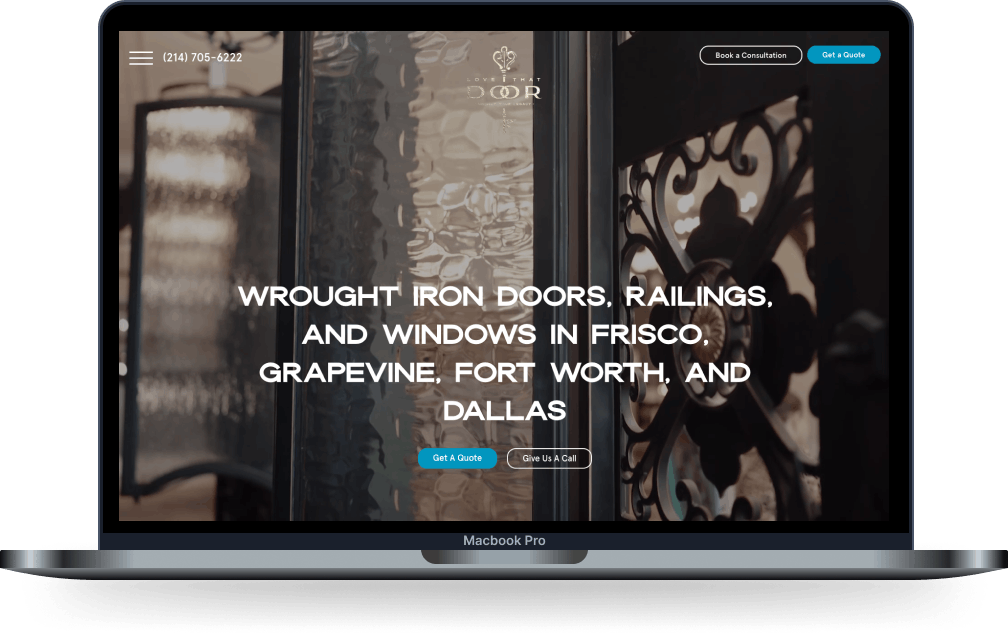 Love That Door
Brand Strategy, Identity Design, Web Application Development, Analytics Implementation, Enterprise Dashboard Reporting, and Paid Media Management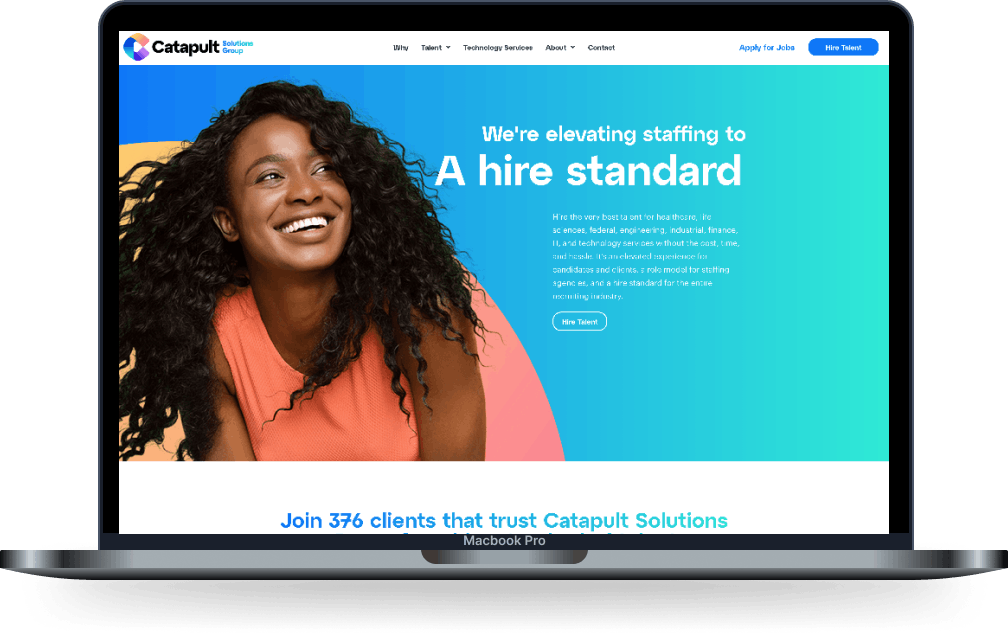 Catapult Solutions Group
Brand Strategy, Identity Design, WordPress Development, and Analytics Implementation
How we do it
Discovery: Our team sits down with you to truly understand your business and its needs. We don't just design and build a pretty site. We work to understand your how your business operates and how your digital goals augment that. This upfront work provides the foundation to architect and build a business tool.
Prototype: In order to gain results, your business tool needs to understand its users. We research and map your user's digital journey in order to design the most optimal user experience.
Design: We take all our learnings from the previous stages to design your digital presence. This ensures a beautiful and functional website.
Development: Your business is constantly growing and evolving which means your digital presence must also scale. We develop flexible components to create a unique and performant website. You can continue to grow your business without being held back by your digital capabilities.
Why Organizations Choose The Uptown Agency
Alto
"The Uptown agency is a fantastic partner for high-growth brands. Their agility, responsiveness, and resourcefulness are truly exceptional in the agency landscape. From figuring out how to hold a photoshoot at a lama farm to setting up our digital ads and advising on our Martech stack, they showed a deep commitment to our brand, a "figure-anything-out" attitude, and a willingness to roll with the invariable startup punches that added incredible value to our company. We are so excited about the continued growth of The Uptown Agency. Y'all rock!!"

Stephanie Swingle, Chief Marketing Officer
Radco
"We were in a bind and needed something sleek and professional that portrayed the quality of work that our company could produce. We had been through some iterations with a few companies, and it just was never good enough. We reached out to The Uptown Agency, and the quality, customer service, and speed at which the work was done were phenomenal. We were blown away by what they put together in such a short amount of time and decided to give them more business going forward."

Justin Jasper, Vice President
QuestPro Consultants
"The Uptown Agency has taken our company, Questpro's, online presence to the next level. Their determined, detail-oriented personality made the process timely, thorough, and enjoyable. They were very communicative and responsive from beginning to end, customizing the site to our industry and making changes quickly and correctly. Since the launch of our new website, we have decided to continue using The Uptown Agency's services, maintaining our website's SEO and refreshing our marketing material. We have no regrets about choosing The Uptown Agency for these big projects, and we look forward to continuing our professional relationship."

Caroline Miller, Marketing Director
OSO Climbing Gyms
"We continue to be extremely impressed with the Uptown Agency. They're a true "one-stop shop" for all things marketing. They do a great job setting the high-level strategy with your team, planning and organizing the key activities, and then backing it up with strong creative execution. Their capabilities across creative design, strategy, web design, SEO, and online advertising continue to impress. You don't need a massive marketing budget to get exceptional output. They'll meet you where you are and provide wonderful work for a great price."

Chris Whittaker, Founder
A&A Optical
"Joseph and the Uptown Agency have been an incredible addition to the A&A Optical team. We are experiencing tremendous growth due to our branding, content production, and overall digital marketing strategy."

Dain Elder, Vice President